National Parks and Game Reserves
A wildlife watching safari is one of the top tourist attractions in Uganda; it gives you the opportunity to view different kinds of wildlife (including all the Big Five), thousands of birds species, Gorilla and Primates Trekking, watching insects and the wonderful landscapes and natural forests.
Favorites:
Queen Elizabeth National Reserve - Best for watching the 'Big Five' and the different landscapes in Uganda...
Bwindi National Park - Best for Mountain Gorilla trakking, Bird watching and Primates watching...
Kibale National park - Famous for Chimpanzee and other prates trakking, birds watching and forest nature walk...
Murchison Falls National park - Famous for its Falls on Nile River and a great place to watch wildlife either on nature walks, boat safari or on game drive.
Lake Mburo National Park - A great place for Bird watching, Boat safari and nature walk
Kidepo Valley National Park - One of the most isolated national park in Uganda, located in northeast of Uganda, bordering Sudan and Kenya; home to various wildlife species...
Unspoiled Beaches
Uganda is a landlocked country with a few beaches along the shores of the mighty Lake Victoria and on its Islands. The beaches are convenient for weekend beach vacations, family getaway, fishing or water sporting tours.
Favorites:
Beaches on Lake Victoria - Plenty of small beaches either along the lake's shores or on the small Islands.....
Hiking, Mountain climbing, Lakes and Natural Forest
Experience the best hiking, mountain climbing and nature walks on the great Ugandan Mountains, valleys, forests and other historical sites.
Favorite:
Mount Elgon- Has beautiful scenery with breathtaking site...
Nile River- Its a beautiful lake with an incredible bird life, and breathtaking landscape and wildlife...
Lake Victoria - The second largest freshwater lake in the world, shared by three countries...
Lake Mutanda - A beautiful Lake surrounded by three Volcanic mountains....
Lake Edward - It is one of the smallest lake along the Great Rift Valley Lakes....
City Life
From the busy bustling cities to the old historical towns. Uganda offers different kind of city life that includes special African dinners and lunches, day city tours, excursions, shopping and so on.
Favorite:
Kampala -The capital city of Uganda and the main get-way to major attractions in Uganda...
Jinja- Is a town in Southeast of Uganda, its the second largest economy town in Uganda...
Entebbe - Is a major town in Central Uganda, located on the Lake Victoria peninsula, approximately 37 kilometers southwest of Kampala, it's home to Uganda's largest commercial and military airport....
Fort Portal - a small town surrounded by major attractions in western Uganda...
Mbarara - is main commercial town in the Western Region of Uganda, home to major municipal and government offices in the region......
Kira - Is the second largest city in Uganda and the main town of Wakiso District in the Central Region of Uganda.......
Gulu - Is the main city in Northern Uganda, home to various commercial and administrative offices of Gulu District.....
Other Attractions
A Ugandan vacation is not only about going on a wildlife safari; there is much more than that, the rich unique heritage and traditions, sporting, crossing the mighty Nile River, adventure travel, the great outdoors activities and so much more.
Favorite:
The Kasubi Tombs - an important spiritual, historical and political site, and the burial grounds for four kings of Buganda and other royal members....
The Zanzibar Butterfly Center- a beautiful center with tropical gardens and home to hundreds of butterflies species...
Entebbe Wildlife Education Centre - A great place to see and learn about wildlife...
The Ssese Islands - are an archipelago of eighty-four islands in the northwestern part of Lake Victoria in Uganda...
The Uganda Museum - a museum in Kampala, which displays and exhibits ethnological, natural-historical and traditional life collections of Uganda's cultural heritage....
The Bujagali Falls - a waterfall near Jinja, where is considered as the source or the starting point of the Nile River from Lake Victoria...
Rubaga Cathedral - Saint Mary's Cathedral Rubaga is the parent cathedral of the Roman Catholic Archdiocese of Kampala, the oldest Roman Catholic diocese in Uganda...
Mandela National Stadium - is a multipurpose stadium in Kampala - Uganda, named after the famous South African president...
Top Safari Destinations
Top Safari attractions in Uganda would include; a visit to the top National parks, museums, Forests, lakes and wildlife orphanage. Below are some of the top safari destinations in Uganda.
---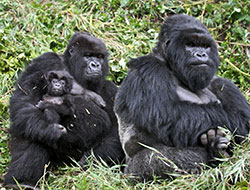 A magnificent park with a huge natural forest that dates back 25,000 years ago, located southwest of Uganda, bordering Virunga National Park in Congo DRC, along the Albertine Rift. It is home to half of the world's mountain gorilla, 160 species of trees and ferns, over 300 bird spices and butterflies....
---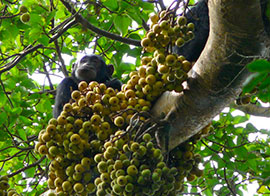 Is a prime chimpanzee tracking national park located southwest of Uganda; the park mainly consists of rainforest that is inhabited by over 60 mammal species (including the 13 primates species), over 335 bird species, different trees, plants and insects; a great place for trekking and hiking.
---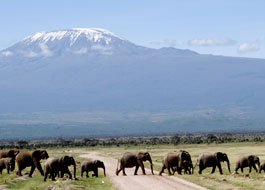 Is the largest and most accessible national park in Uganda; with a surface area of about 2,000 Km2 spread over open planes, volcanic mountains, craters, lakes and wetland forest that are ideal habitat for classic big five game, primate, over 600 bird species among other wildlife...
---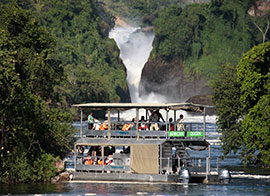 It is Uganda's largest and oldest conservation area, hosting over 76 mammal species and 450 bird species; the park is home to the famous Murchison falls along Victoria Nile(Nile River source) in western Uganda, savannah grassland, riverine and woodland forest....
---