Murchison Falls National Park Picture Gallery


The Murchison Falls from a distance.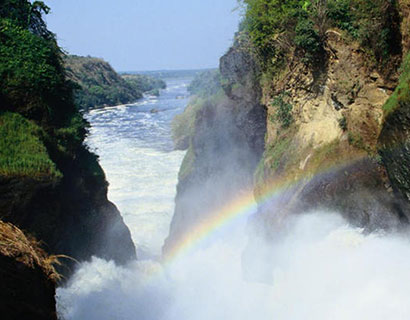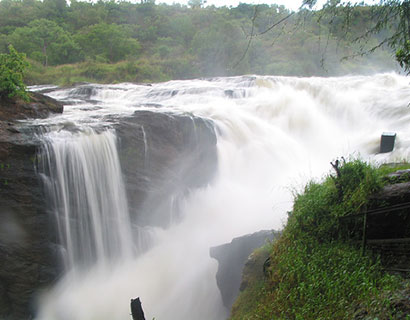 What to see at Murchison Falls.


Boat safari at Murchison Falls National Park.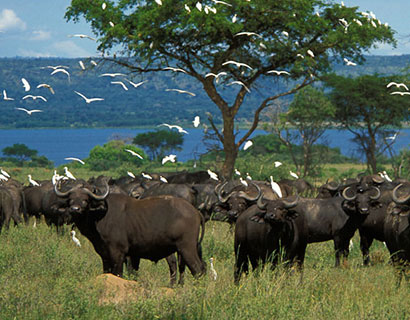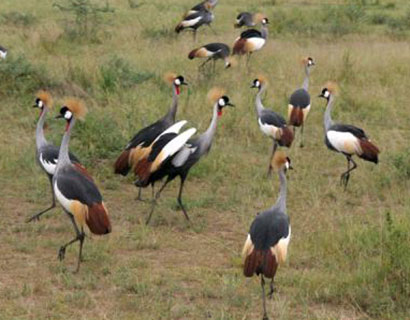 More picture of safari at Murchison Falls National Park.


Some of the top end hotels and lodges at Murchison Falls national park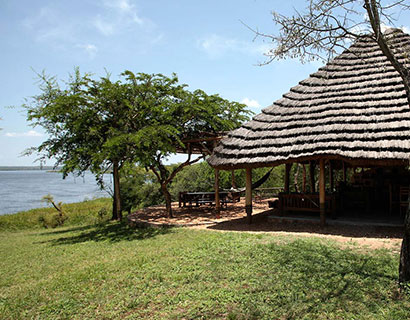 More hotels in Murchison Falls national park

About Murchison Falls National Park
Murchison Falls National Park is located between Masindi District in western Uganda and Amuru District in northern Uganda. The park is approximately 300 kilometers (190 mi) drive from Kampala (Uganda's capital city).

The park was named after Murchison falls, also known as Kabarega Falls; it's a waterfall on the Nile River that breaks the Victoria Nile, which flows across northern Uganda from Lake Victoria to Lake Kyoga and then to the north end of Lake Albert in the western branch of the East African Rift. At the top of Murchison Falls, the Nile forces around 300 cubic meters of water per second between a narrow gap of only 7 meters (23 ft) wide, forcing the water to tumble 43 meters down the falls.

The park is Uganda's largest national park and the only park in Uganda with all the "big five" animals and large numbers of rhinos that live within a protected area at the Ziwa rhino sanctuary; other popular wildlife include giraffes, antelopes, hippos, crocodiles and over 450 bird species.
Why Murchison Falls National Park
The largest national park in Uganda with a diverse ecosystem that include the Nile River, Murchison falls, Lake Albert Delta, Buligi Game Tracks, Paraa (major wildlife area), Karuma Falls, Kaniyo Pabidi Forest and Rabongo Forest.
A wide range of wildlife that include all the big five, over 76 mammal species and over 450 bird species.
Ideal destination for boat safari, nature walks, bird watching, photography tours and safari game drive.
Other activities include fishing trips, hiking and cultural interaction trips.
Accommodation
Murchison Falls National Park has a wide range of accommodation, from the luxury top end safari lodges, the authentic and Eco friendly African Safari Camps, the private secluded Camps to the traditional Campsites. Check out some of our recommended hotels and lodges on the accommodation tab above.
When to visit
The best time to spot most wildlife at Murchison Falls National Park is on the dry season, animal are easily spotted on the open plains and near rivers or water holes in search of food and water. In Uganda the dry season are between December-February and July-October, this is the best time to spot wildlife. March through May and November are considered to be shoulder season with lesser wildlife compared to the high season. Bird's watching is best in October – December.
Getting there
Murchison Falls National Park is about 305 km from Kampala, a 4 - 5 hours road drive via Masindi town or 40-45 minutes flight from Kampala; The Park can also be accessed from the northern side via Gulu town through any of the northern gates. There are daily scheduled chartered flights from Entebbe Airport to Pakuba, Chobe or Bugungu Airstrip.
Hotels in Murchison Falls
There are plenty of Hotels, Lodges, Tented camps and Camping sites at Murchison Falls National Park; accommodation ranges from top luxury 5 star hotels, private excluded bush lodges to budgeted camping sites. Whether it's a wildlife watching safari, Chimpanzee trekking tour, photography or birds watching safari; there is always accommodation for you. Check out some of our recommended hotels below or contact our holiday expert to find accommodation that suits you.
---