Bwindi National Park Picture Gallery


A distance view of Bwindi impenetrable forest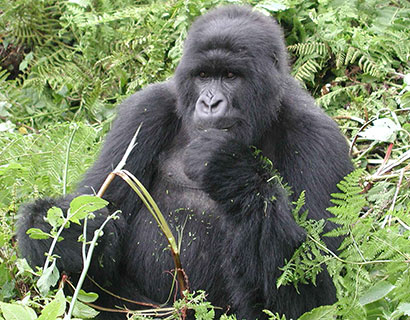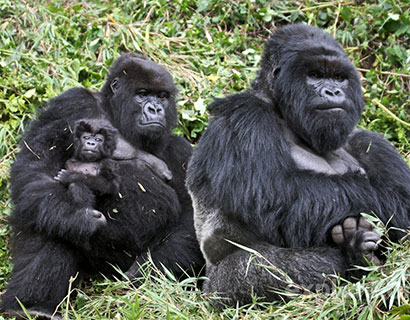 Gorilla families at Bwindi national park


A morning distance view of Bwindi.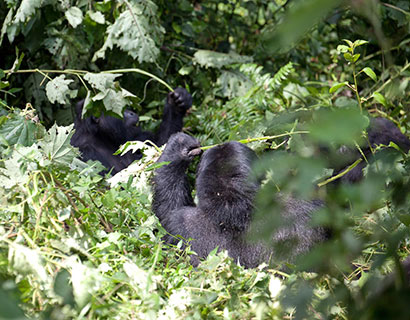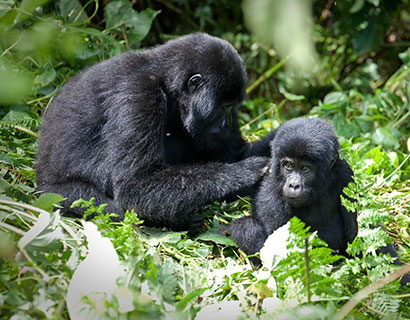 More picture of the Gorillas at Bwindi national park

Some of the top end lodges at Bwindi national park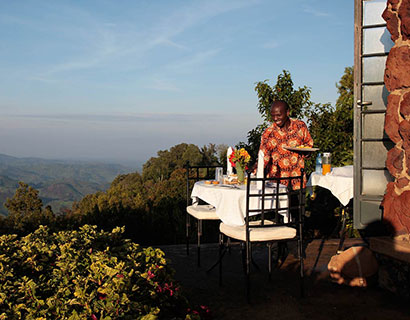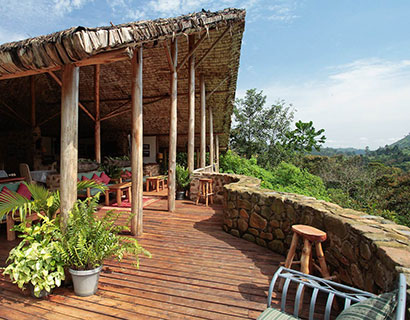 More hotels in Bwindi national park

About Bwindi Impenetrable National Park
Bwindi Impenetrable National Park is located on the southwest of Uganda; The Park is part of the Bwindi Impenetrable Forest, bordering Democratic Republic of Congo next to the Virunga National Park and on the edge of the western Great Rift Valley shared by Rukungiri, Kabale and Kisoro Districts. The park covers about 331 square kilometers of jungle forests on an Altitude Range of 1160 meters (Ishasha gorge) to 2607 meters (Rwamanyonyi Peak) and contains both montane and lowland forest; the park has no roads and is only accessible on foot.

There are about 786 mountain gorillas in the whole world, Bwindi has about 375 gorillas; making it the most populated gorilla area in the world. The park is also home to over 30 elephants and 120 species of mammals including 7 diurnal primates, over 300 bird species and over 200 species of butterflies. This Afro montane forest has about 324 tree species, fern, vines and shrubs.
Accommodation
At Bwindi national park, there are various types of accommodation either within or surrounding the park; this includes luxury lodges, rest houses, hotels, private and public camp sites; check out some of our recommended hotels and lodges on the accommodation tab above.
When to Visit
Bwindi national park is usually cold in the morning and night (7⁰C to 20⁰C), June and July are the coldest months, while the long rains are in March through May and the short rains in September to November; the total annual rainfall is about 2390mm. the best time to visit Bwindi is from June to September or December to February.
Getting there
Bwindi national park is approximately 540km from Kampala City and 17 kilometers from Butogota; it's an 8 hours road drive from Kampala, 3 hours from Queen Elizabeth national park and 2 hours from Kibale town. There are daily public bus from Kampala to Butogota via Rukungiri and Kihiihi.

By air, Bwindi national park can be reached via Kihiihi or Kayonza airstrip in northern Bwindi from Entebbe international airport or via Kisoro airstrip in south of Bwindi.
Hotels in Bwindi
There are plenty of Hotels, Lodges, Tented camps and Camping sites at Mbwindi National Park; accommodation ranges from top luxury 5 star hotels, private excluded bush lodges to budgeted camping sites. Whether it's a Gorilla trekking tour, photography or birds watching safari; there is always accommodation for you. Check out some of our recommended hotels below or contact our holiday expert to find accommodation that suits you.
---